Tree of Life Exhibition
Caroline Meynell
February 13th – March 20th 2013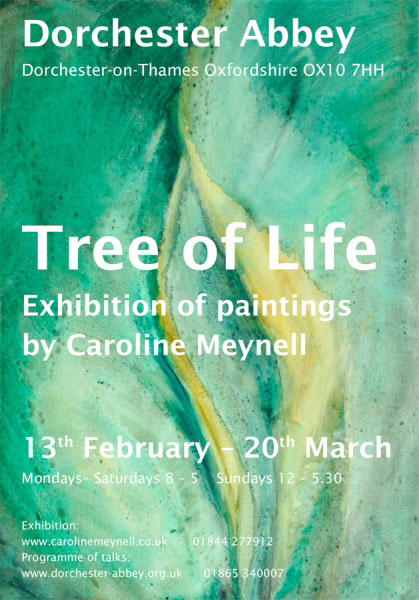 An Exhibition of Thirteen Paintings with a Programme of Talks
The theme of the Tree of Life is explored by the artist Caroline Meynell in a series of thirteen paintings. The exhibition provides a contemplative space within the Abbey during Lent, and is the focal point of a series of Sunday evening talks. The Tree, through its cycle of life, death and regeneration here becomes imbued with the journey through Lent – of life and death leading to the resurrection of Easter.
Programme of talks:
Sunday 17th February 2013
6pm Evensong followed by talk by the artist Caroline Meynell. Introduction to the exhibition ending with a meditation.
Sunday 24th February
6pm Talk by Rt Revd Lord Harries of Pentregarth, former Bishop of Oxford: 'The suffering Christ in Modern Art'. Followed by Taizé Worship.
Sunday 3rd March
6pm Opening Worship followed by talk by Revd Canon Prof Martyn Percy, Principal Ripon College, Cuddesdon: 'Spiritual Growth: Fields, Trees and Wisdom'.
Sunday 10th March
6—7pm The Exhibition will be open for meditation with music and candlelight in the Abbey.
Sunday 17th March
6pm Opening Worship followed by talk by Revd Emma Pennington, Vicar of Garsington, Horspath & Cuddesdon, currently engaged in doctoral research on Julian of Norwich:
'The Flowering Cross; Medieval Devotion to the Tree of Life'.