Lore of the Land
Beth Collar, Una Knox, Holly Slingsby, Patrick Staff, Jessica Warboys
May 6 2013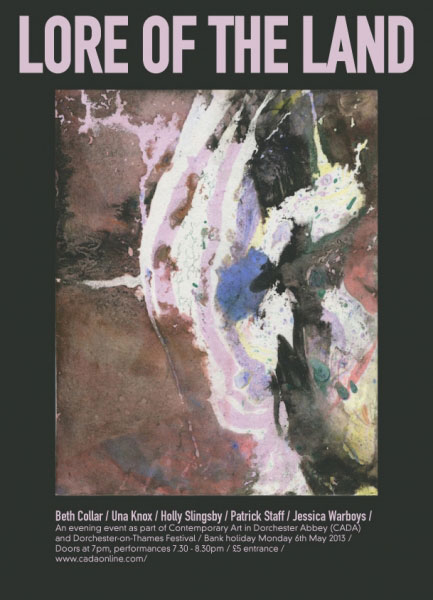 An evening event as part of Contemporary Arts in Dorchester Abbey (CADA) and Dorchester-on-Thames Festival
Combining performance, video and sculpture, artists Beth Collar, Una Knox, Holly Slingsby, Patrick Staff and Jessica Warboys are producing new works specifically for this one-off event. Acknowledging the relevant interests of each artist, the context of the medieval Abbey which dates back to 1140, as well as the time of year, Lore of the Land will draw on notions of history, tradition, storytelling, legends, myth, nature, landscape, belief and folklore.
The pipe organ was the most advanced machine of any given town or village for hundreds of years, requiring a knowledge of various disciplines to assemble and maintain. Choosing to incorporate the rich history of the organ in her work, Una Knox will be presenting a performance and video that explores the intersection of science and mystical faith.
Jessica Warboys will make a series of new sculptures, to be exhibited in the herb garden of the Abbey grounds. Developed from sculptures featured in her previous films including Pageant Roll, 2012, commissioned for dOCUMENTA (13), the objects will be made from wood, glass, and ceramics.
Beth Collar, Patrick Staff and Holly Slingsby are all developing new performance works, each exploring a different historical and physical aspect of the space. Now no longer obtainable from English mines, Alabaster is a material bound to the depiction of the dead in European tomb art. Collar's performance will take the Alabaster effigy in the Abbey as a conversation partner. Referencing the myth and legend of the May Queen and the Green Man, a transcendental moment forms the basis of Slingsby's performance. Staff will be working with a dancer on a piece incorporating a shared dialogue between the making and material of religious iconography, in relation to the global exchange of scrap metal and its theft.
Curated by Holly Slingsby and Matilda Strang.