Angela Wright
September 2005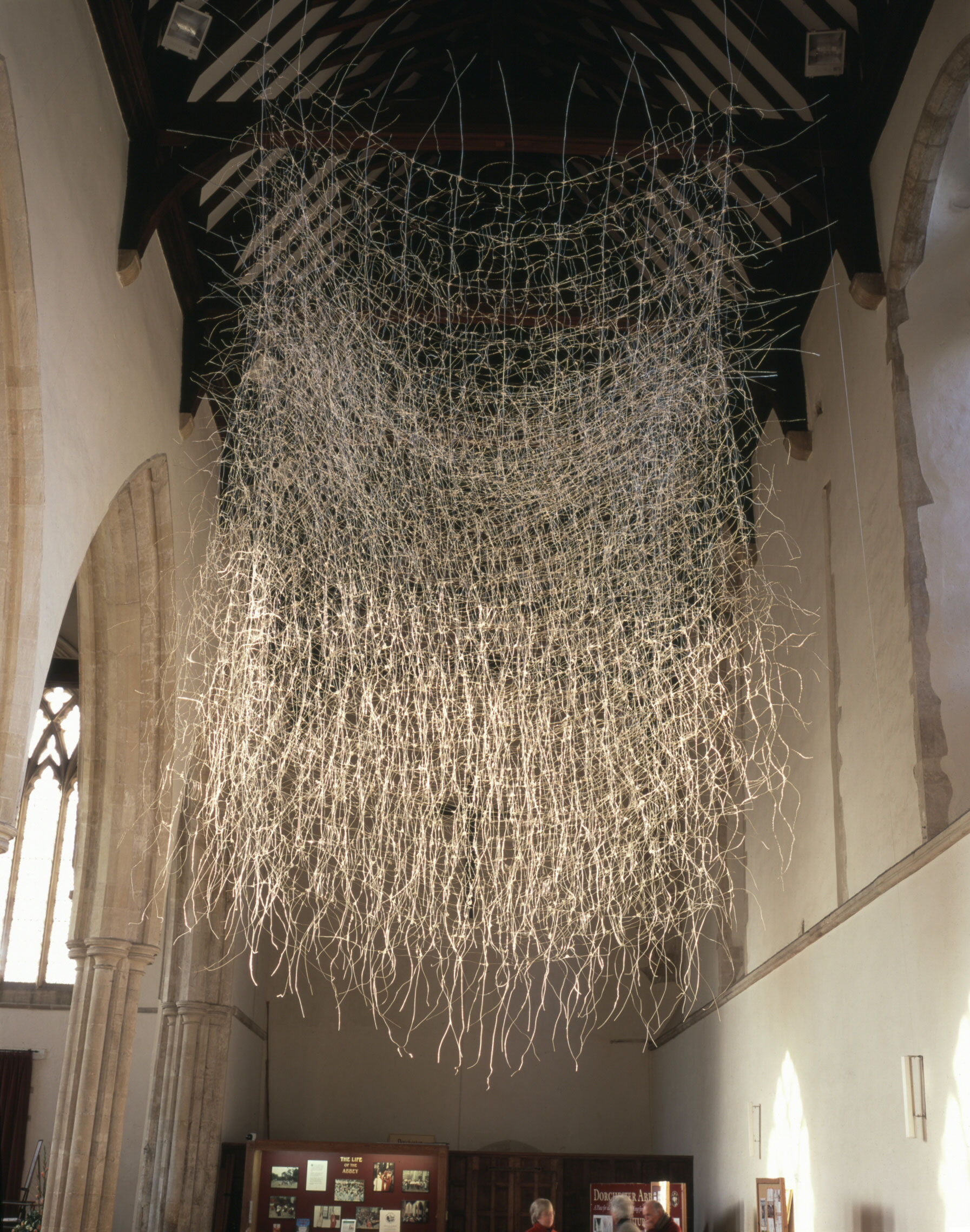 A suspended installation in the nave close to two clerestory windows; the interaction of natural daylight and artificial light changing its subject-matter.
Made from 4 km of reflective silver plated copper jewellery wire, chosen for its colour and sparkle. Consisting of a number of large improvised woven and knotted wire drawings, each one different, assembled together and suspended from the nave rafters. The installation light in weight and at times almost invisible; hovering overhead as people walk under it, seen or partly glimpsed from different locations within this vast building. A sense of delicacy, rhythms and tangles.
The work is embedded in Angela's emotional life and past events that have effected her on a deep level, with an inherent fragility vulnerably placed.A melancholy beauty, of clouds in the sky, rain falling.
Angela Wright attended the London College of Fashion in the early '80s and subsequently ran her own couture business in central London. In 1995 she graduated in Fine Art and Ceramics at Camberwell College of Arts, University of the Arts London, and then exhibited widely. Recent works include "Cooperation-Installation" (a gallery encircling 'painting' whose 'brush-marks' were the paintings of an autistic artist); "Silk" (40m of raw Indian silk, torn and re-assembled in Spitalfields 18C silk-weavers' houses); "Economist-Carpet" (chance fragments of woven porcelain clay carpeted the Economist Building foyer); several 'Church-Works': in St Thomas More Brighton; St George Ivychurch Romney Marsh, St Giles' Cripplegate Barbican; and most recently "50 Degrees North", a suspended wire installation in the atrium of London Southbank University's 'Keyworth Centre'.