Parking
The Abbey has no car park. Please use the free public car park in Bridge End, directly opposite the Abbey. There is limited street parking and visitors are asked not to cause congestion or to inconvenience local residents.
For major events, please follow signs to the parking areas in the Recreation ground at the Oxford end of the village and/or 'Abbey View' to the South. Abbey view tends to be used only when the weather is dry.
The Abbey is a 5 – 10 minute walk from parking.
Should the parking be full or shut due to bad weather, visitors should park on the roads near the Recreation Ground and along the Henley Road as indicated by the green lines on the map.
Abingdon Road, High Street and Henley Road are the bus route through the village and must be kept clear at all times so that the buses can pass. Private coaches may drop passengers in the bus stop at the end of the Rose Walk, and park in the lay by on the Henley Road.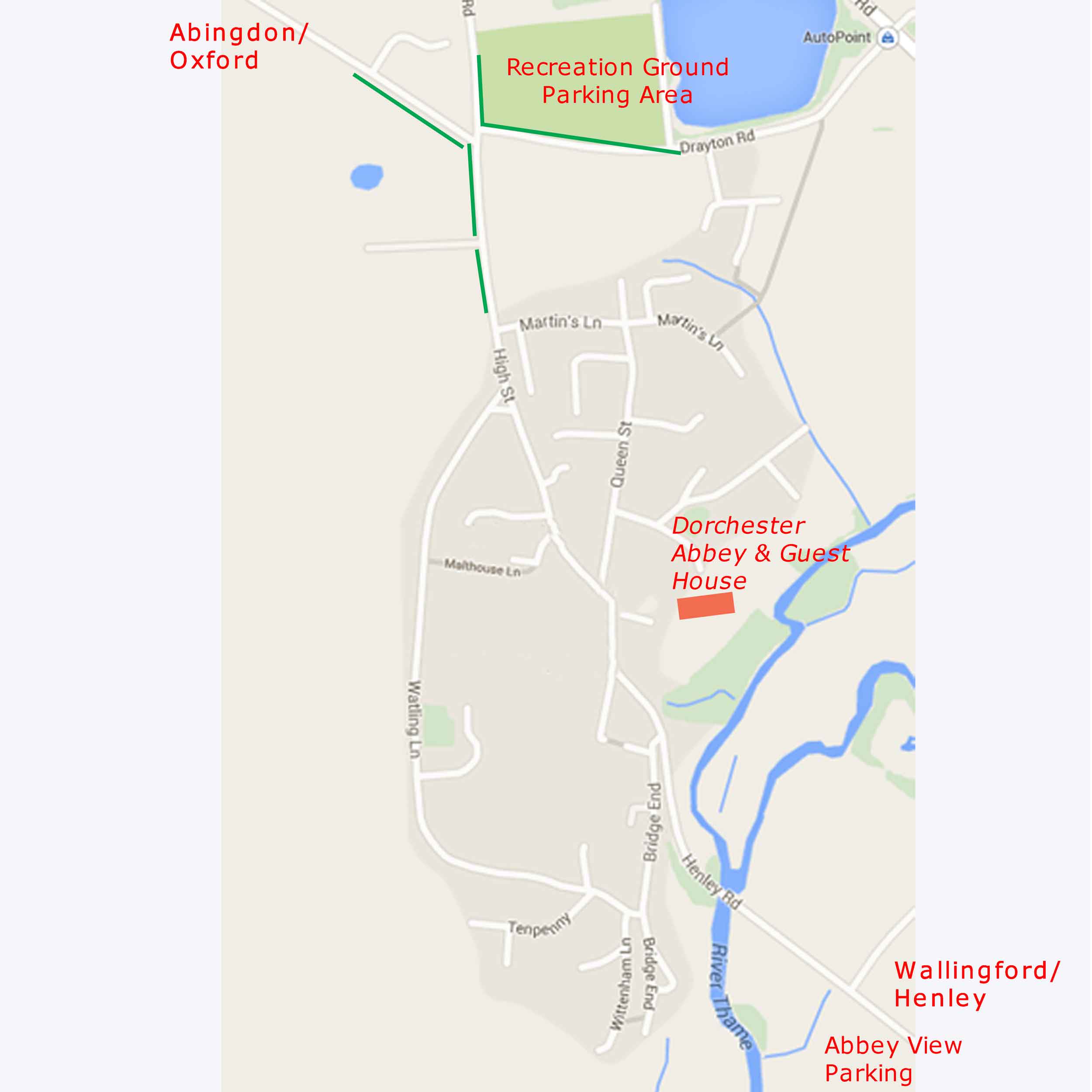 Disabled Parking
Dorchester Abbey has 3 disabled parking spaces – these are allocated on the basis of need 48 hours before an event.  Abbey permits are issued for these spaces so please note blue badges are not valid in these spaces. To apply for a permit please contact the parish office on 01865 340007 with your vehicle registration number and details of the event you will be attending and your contact details. Additionally blue badge holders can use the disabled spaces in Bridge End car park and on the High Street. Drivers with disabled passengers are welcome to drop off and collect passengers at the Abbey tower and will be given a permit to park at the Rectory 2 minutes walk away