Abbey Publications
Many books have been written about Dorchester Abbey over the years.  Below is a selection, many of which are available at the back of the Abbey for purchase, or by using the links in the titles.
This multi-author book, 124pp., edited by Dr Kate Tiller, and published on behalf of the Dorchester Abbey Preservation Trust. It is a very readable and beautifully illustrated account of the Abbey from earliest times to the present day, with each chapter being contributed by a specialist in their subject:
Introduction Kate Tiller
The archaeology of Dorchester Abbey Graham Keevill
Cathedral and Abbey, 635-1536 James Bond and Kate Tiller
The dissolution and after: Dorchester Abbey 1536-c.1800  Nicholas Doggett
The Abbey restored, c.1800-1920 Geoffrey Tyack
Religion and community: Dorchester to 1920 Kate Tiller
Dorchester and its Abbey recollected Nicholas Dudley
Building history: the Abbey revisited Kate Tiller
Publisher: Stonesfield Press
ISBN-10: 184217388X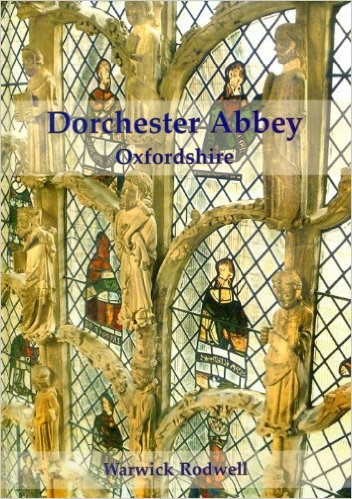 Dorchester-on-Thames and its abbey have been subjects of antiquarian interest for more than 450 years, and during that time much has been written about them. They are, however, still far from being comprehensively studied and recorded. Indeed, the most substantial architectural description of the medieval church was written as long ago as 1845, and a thoroughgoing reappraisal has long been overdue. In this major new study on the origins, history and architecture of Dorchester Abbey, Warwick Rodwell assembles a huge amount of material from observations during repair and conservation and information derived from archaeological excavation, as well as the unexpected discovery of previously unstudied and unpublished topographical and architectural material, housed in several archives. The volume is divided into two parts: the first contains an account of the archaeology of the site and the architectural development of the abbey, while the second comprises a series of detailed notes and observations on the present structure, its fittings and furnishings.
Published by Oxbow Books (31 Dec. 2009)
ISBN-10: 184217388X
Simon Jenkins has travelled the length and breadth of England to select his thousand best churches. Organised by county, each church is described – often with delightful asides – and given a star-rating from one to five. All of the county sections are prefaced by a map locating each church, and lavishly illustrated with colour photos from the Country Life archive. Jenkins contends that these churches house a gallery of vernacular art without equal in the world. Here, he brings that museum to public attention.
Published by Allen Lane (5 July 2012)
ISBN-10: 184614664X