The Poor Man's Bible Read to be read to sing for to be unsung
Iain Sinclair, MacGillivray, Nancy Campbell, B. Catling, D.Gwalia, Iain Boal, James Young
January 1st 2010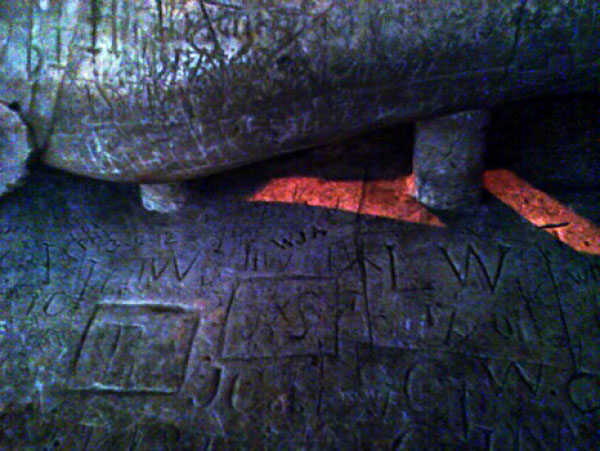 Poor Man's Bible is a term that was developed to define a painted narrative inside churches, for those who couldn't read the written word.
This evening event, curated by Kirsten Norrie, combined performance, music, poetry and prose as the audience moved around the Abbey to be shown the space and its meaning through the eyes of the performers.
Kirsten Norrie is a live artist, musician and writer who has performed solo worldwide, including Vietnam, Germany, the US and Spain.  Norrie writes for Art Monthly and during 2009 released her first solo album, Wolf, under her singing name, MacGillivray.
D. Gwalia is a writer and performer of minimalist songs centered around the human voice, using fragmentary lyrics to evoke psychological landscapes which fuse both the ominous and the familiar.  D.Gwalia has performed throughout the UK and in Europe at venues and events including the Volksbühne, Berlin, the Oxford Chamber Music Festival and the Whitechapel.  Currently he is writing new material and performing his new album In Puget Sound.
Iain Boal is an Irish historian based in San Francisco.  He teaches the history of the earth sciences and community studies at the University of California.  He is associated with Retort, a group of artists, writers and artisans, whose installation Afflicted Powers was commissioned for the 2006 Seville Biennial.  His planetary history of the bicycle, The Green Machine, will be published by Notting Hill Editions in the autumn of 2010.  Boal used to live in the village of Warborough, across the water meadows from Dorchester Abbey.
Iain Sinclair has lived in (and written about) Hackney, East London, since 1969.  His novels include Downriver (Winner of the James Tait Black Prize and the Encore Prize for the Year's Best Second Novel), Radon Daughters,  Landor's Tower and Dining on Stones (which was shortlisted for the Ondaatje prize).  Non-fiction books, exploring the myth and matter of London, include Lights Out for the Territory,  London Orbital and Edge of the Orison.  In the 1990s, Sinclair wrote and presented a number of films for BBC2's Late Show and has subsequently co-directed with Chris Petit four documentaries for Channel 4, one of which, Asylum, won the short film prize at the Montreal Festival.  He edited London, City of Disappearances, which was published in October 2006. His most recent book is Hackney, That Rose-Red Empire, published in February 2009.
Nancy Campbell is a poet and book artist. Campbell studied English at Oxford University and apprenticed with letterpress printers and bookbinders in North America.  Her publications include Boat Trip (a translation of Rimbaud's Le bateau ivre), Yan Tan Tethera and After Light.  She is currently completing a series of poems about a community of Inuit hunters among whom she lived during a residency at Upernavik Museum in the Arctic.
Brian Catling is a poet, sculptor and performance artist.  His work spans the globe including Spain, Japan, Iceland, Israel, Holland, Norway, Germany, Greenland and Australia.  He founded the international performance group The Wolf in The Winter and his video work moves between gallery installation and narrative film. Catling's permanent monument for the site of execution at the Tower of London was unveiled in 2007 and A Court of Miracles, a compilation of all of his poetry, was published in 2009.  He is Professor of Fine Art at The Ruskin School of Drawing & Fine Art, University of Oxford, and a Fellow of Linacre College.
James Young is a British musician, author, keyboardist and composer, who was a longtime accompanist for singer songwriter Nico.