When:
September 22, 2019 @ 11:00 am – September 23, 2019 @ 5:00 pm
2019-09-22T11:00:00+01:00
2019-09-23T17:00:00+01:00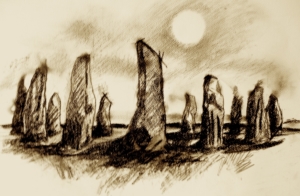 HENGE19
Art installation and Dorchester Primary School Exhibition
There can be few areas which present such a wealth of early remains of a variety to suit the tastes of archaeologists no matter what period they may favour.'
G. W. G. Allen. – Oxoniensia – 1938
HENGE will be a celebration of Dorchester's ancient landscape during the Autumn Equinox. It will consist of two parts:
Firstly a modern interpretation of a Henge will stand on the Hurst Water Meadow. The event will resemble a Neolithic ritual as visitors approach along a processional way or Cursus. The ritual will commence and conclude with the blowing of a ram's horn and contain song and spoken poetry.
Secondly an exhibition of artwork including paintings, photographs and prints in the Abbey Guest House. 13 artists have been working in response to a brief set by artist Miranda Creswell. This will be an unusual display where artists will be asked to explain how they have responded to Dorchester's ancient landscape.
Those brave participating artists are:
Anna Dillon, Chris Baines, Christine Payne, Edward Metcalfe, Ian Brace, Jane McDonald, Jim Robinson, Mari Metcalfe, Nick Hamilton, Nicky Cooney, Patricia Drew, Rosie Southon, Sophia Stewart-Liberty.
Discover Miranda's drawings entitled 'Lifting the Gaze' displayed on the Water Meadow from September 14th to October 1st.
Save these Dates
Installation for one night only: Friday 20th September, Hurst Water Meadow 7.30. Entrance free, donations welcome
Private View: by invitation, Saturday 21st September. Abbey Guest House, 7.00
Public Opening: Sunday 22nd 11.00 – 5.00 Abbey Guest House. Sunday 22nd 12.30 – 15.30 Dorchester Abbey
St Birinus' School: exhibition in Dorchester Abbey, subject to events schedule and services