Events at Dorchester Abbey
For generations people have brought their gifts and skills to enhance the life of Dorchester Abbey and this tradition continues as a huge variety of groups and organisations hire and use the Abbey each year as the venue for a wide and vibrant programme of concerts, theatre, visual arts and other events.
If you would like to hire the Abbey for your event then take a look at our information for hirers.[event_board]

Sep
26
Thu
The Dorchester Lecture: The Very Revd Professor Martyn Percy
Sep 26 @ 7:30 pm – 9:30 pm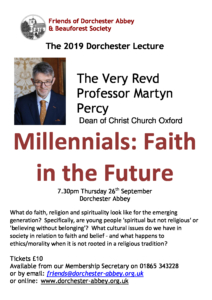 Millennials: Faith in the Future
7.30pm Thursday 26th September
Dorchester Abbey
What do faith, religion and spirituality look like for the emerging generation? Specifically, are young people 'spiritual but not religious' or 'believing without belonging'? What cultural issues do we have in society in relation to faith and belief – and what happens to ethics/morality when it is not rooted in a religious tradition?