When:
March 5, 2019 @ 2:00 pm – 3:00 pm
2019-03-05T14:00:00+00:00
2019-03-05T15:00:00+00:00
Where:
Dorchester Abbey
High St
Dorchester, Wallingford OX10 7HH
UK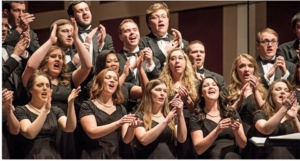 Chamber Singers is the premiere vocal ensemble at the University of South Dakota. It is comprised of graduate and undergraduate students selected through audition from the entire university student body. Known to critics for "creating a choral concert of stunning beauty and
musical understanding," its repertoire, which is primarily a cappella, includes music from the Renaissance to the present in a wide variety of styles. The ensemble presents formal concerts
on campus each semester and its annual tour has taken the group throughout the United States and Europe. They have performed for state and regional conventions of the American Choral Directors Association and the Music Educators National Conference and have appeared on the
public radio program "Going Beyond Words." The Chamber Singers, on several occasions, have been selected as finalists for the American Prize in Choral Performance (College and University
Division). David Holdhusen is the Director of Choral Activities and the Susan and Douglas Tuve Distinguished Professor of Choral Music at the University of South Dakota. His duties have included serving as conductor for the university's three choral ensembles as well as teaching courses in conducting, choral literature and techniques, and applied voice. In addition to his teaching responsibilities, Dr. Holdhusen is currently the interim Chair of the Department of
Music and Director of the university's annual Choral Directors Institute and the USD Summer Music Camp. Dr.Holdhusen received his Ph.D. in Music Education from Florida State University. He holds an
M.M. from Northwestern University in Choral Conducting, and received his B.A. in Music with education certification from Gustavus Adolphus College. During his time at Gustavus, Dr.Holdhusen was elected to Pi Kappa Lambda and awarded the Presser Foundation Scholarship.
Dr. Holdhusen was the recipient of the SD-ACDA Encore Award for excellence and achievement in the field of choral music and the prestigious Belbas-Larson Award for Excellence in Teaching,
the highest honor USD bestows on its educators. He is in demand as a guest conductor, adjudicator, and clinician throughout the region. He is a member of the American Choral Directors Association (ACDA), the College Music Society, the National Collegiate Choral
Organization (NCCO) and the National Association for Music Education (NAfME). Dr. Holdhusen has had research published in national journals and presented clinics and interest sessions throughout the country. He has been elected to leadership positions in various organizations, including a term as President for the South Dakota Chapter of ACDA. His book, "Commitment to Musical Excellence" is published by Cambridge Scholars Publishing. Choirs under his
direction have been invited to perform at state and regional festivals and conventions, have won first place and grand champion awards in music festivals throughout the country, and have on numerous occasions been named a finalist for the American Prize in Choral Performance.
3250 28th Street SE, Grand Rapids, Michigan 49512 | Phone: 616.957.8113 | Fax: 616.957.9716
UNIVERSITY OF SOUTH DAKOTA CHAMBER SINGERS
Sing Joyfully……………………………………………………….William Byrd Ave Regina.………………………………………………………..Guillaume Dufay Hear the Voice……………………………………………………Thomas Tallis Ave Maria…………………………………………………………..Josquin Desprez Son of David…………………………………………………….…David Weelkes Ave Verum…………………………………………………………Franz Liszt Coelos Ascendit…………………………………………….…..Hodie Stanford Nunc Dimittis………………………………………………….…Gustav Holst Jordan………………………………………………………….……William Billings Nearer My God……………………………………………….…James Stevens Followers of the Lamb………………………………….……Edwin Ferguson Lux Aurumque………………………………………….……….Eric Whitacre Circle Be Unbroken…………………………………..……….David Moore Down to the River to Pray………………………….……..Jennaya Robison Do Lord……………………………………………………….…….Moses Hogan What Do the Stars……………………………………….……Priano Wade in the Water…………………………………….……..Moses Hogan Glory Hallelujah……………………………………………..…Mark Butler Soon I Will Be Done…………………………………….……Stacey Gibbs Ezekiel………………………………………………………..……Stacey Gibbs O Day Full of Grace……………………………………………F.M. Christiansen Quatre Motets………………………………………..………..Maurice Durufle
1. Ubi Caritas
2. Tota Pulchra Est
3. Tu es Petrus
4. Tantum Ergo
Program to be selected from above