When:
January 11, 2020 – March 8, 2020
all-day
2020-01-11T00:00:00+00:00
2020-03-09T00:00:00+00:00
Where:
Dorchester Abbey
OX10 7HH
Cost:
£5 for up to 2 adults and 4 children, with a single child bringing up to 2 adults with them £2 . Any individual adult visitors can pay £2 each.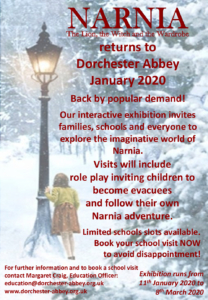 Back by popular demand, Narnia returns to Dorchester Abbey. An interactive exhibition for families, schools and everyone to explore the imaginative world of Narnia. Some school slots available. Contact Margaret Craig at education@dorchester-abbey.org.uk to organise a group visit. Please check website for tickets and upto date timings as the exhibition may be closed occasionaly for other events.