When:
June 16, 2018 @ 7:30 am – 10:00 pm
2018-06-16T07:30:00+01:00
2018-06-16T22:00:00+01:00
Where:
Dorchester Abbey
High St
Dorchester, Wallingford OX10 7HH
UK

Contact:
Benson Choral Society
01865 407395 (evenings)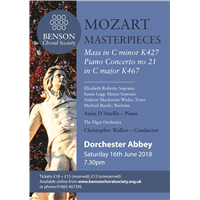 Mass in C minor
Elizabeth Roberts Soprano
Susan Legg Mezzo Soprano
Andrew Mackenzie-Wicks Tenor
Michael Bundy Baritone
Piano Concerto in C major K 467
Anita D'Attellis Piano
Laudate Dominum
Chris Walker Conductor
Elgar Orchestra
Mozart's talent was so prodigious, and his output so prolific, that it is often difficult to know where to start – which sonata, serenade or quartet? At first sight the same question may be asked of his church music, some 80 works including nearly 20 masses. But many of these were written up to 1780 when Mozart was in the service of the Archbishop of Salzburg, and were for immediate liturgical use. The two big works written later easily stand out from the rest – the Requiem, which we sang in 2015, and the C minor Mass, sometimes called the 'Great' to distinguish it from an earlier work in the same key.
Mozart wrote this Mass to celebrate the recovery from illness of his fiancee Konstanze. There were married in 1782, and the Mass was first performed in Salzburg in 1783. It is a substantial work, though lacking some of the text of the Credo and the usual Agnus Dei, and its ceremonial splendour, complex choral textures and virtuosic solo writing compel the listener's attention.
Piano Concerto in C Major
The years 1784-6 saw Mozart established in Vienna, and the public flocked to his concerts. The 12 piano concertos he wrote to perform himself during this period greatly enlarged the form and of these, the one in C (K 467) is perhaps the most well-known. Its fame is due largely to the poetic eloquence of its slow movement, used not only in the film Elvira Madigan, but also in numerous other films and TV programmes. We are delighted to showcase the talents of Anita D'Attellis, our regular accompanist and outstanding solo pianist.