When:
November 30, 2019 @ 7:30 pm – 9:30 pm
2019-11-30T19:30:00+00:00
2019-11-30T21:30:00+00:00
Where:
Dorchester Abbey
OX10 7HH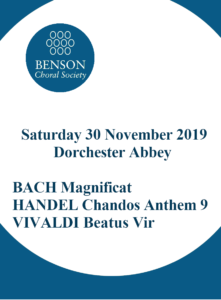 The first concert of our new season focuses on those three masters of the Baroque period, Bach, Handel and Vivaldi.
Bach's setting of the Magnificat is a splendid ceremonial piece with grand choral gestures and brilliant orchestration,
contrasted with a selection of solo arias and duets. Handel's Chandos Anthem Let us praise the Lord is similarly
contrasted, one of the first works to display his inimitable choral style. Vivaldi is represented by two less well-known
works, Beatus Vir for choir and soloists, and one of his many concertos for Strings.