When:
November 1, 2018 – November 23, 2018
all-day
2018-11-01T00:00:00+00:00
2018-11-24T00:00:00+00:00
Where:
Dorchester Abbey
High St
Dorchester, Wallingford OX10 7HH
UK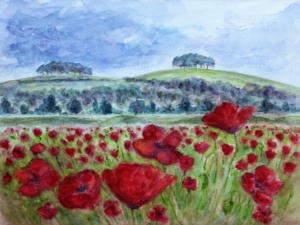 Centenary of the Armistice of World War One.
Painting by Rosie Southon.
Welcome to "Unbroken Glory … Gathered Radiance", Dorchester's Commemoration Tribute for the Centenary of the Armistice of World War One.  The poppies have been made by people in the community and friends of the village from near and far.
The tribute is composed of various elements and ideas suggested by Stanza IV of "The Dead" by Rupert Brooke, 1887-1915.  Written during the first years of the war, it gives a romantic view of sacrifice and death.   Brooke died in the Aegean, on his way to fight at Gallipoli.  His popularity waned as the war's reality became starkly horrific, but his poetry has an enduring message, and here he evokes love, landscape and the hope of God's care after death.
These hearts were woven of human joys and cares,
Washed marvellously with sorrow, swift to mirth.
The years had given them kindness. Dawn was theirs,
And sunset, and the colours of the earth.
These had seen movement, and heard music; known
Slumber and waking; loved; gone proudly friended;
Felt the quick stir of wonder; sat alone;
Touched flowers and furs and cheeks. All this is ended.
There are waters blown by changing winds to laughter
And lit by the rich skies, all day. And after,
Frost, with a gesture, stays the waves that dance
And wandering loveliness. He leaves a white
Unbroken glory, a gathered radiance,
A width, a shining peace, under the night.
The panel hanging from the mediaeval screen is part of the Tribute and was made by the children of St Birinus C of E Primary School, Dorchester.  It will form part of the Remembrance Day procession to the war memorial in the High Street.
The costs of the hessian used in this tribute, and a community workshop, were sponsored by Dorchester Parish Council; all other materials are recycled.