Events at Dorchester Abbey
For generations people have brought their gifts and skills to enhance the life of Dorchester Abbey and this tradition continues as a huge variety of groups and organisations hire and use the Abbey each year as the venue for a wide and vibrant programme of concerts, theatre, visual arts and other events.
If you would like to hire the Abbey for your event then take a look at our information for hirers.

Oct 20 2018 – Jan 6 2019
all-day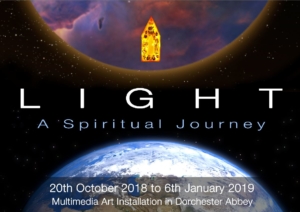 12:00 am
a multimedia installation in Dorchester Abbey Exhibition Opening Times: Monday – Saturday 9am-4.30pm, Sunday 12noon-4.30pm Come and embark on a spiritual journey through images from the Hubble space telescope accompanied specially commissioned music by Dr Tim Cook. A mini pilgrimage down the Cloister Gallery set against the maxi pilgrimage of the movement of the planets[...]
Oct 21 @ 2:00 pm – 4:00 pm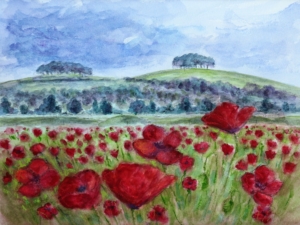 2:00 pm
Painting by Rosie Southon. "Unbroken Glory-Gathered Radiance" – Rupert Brooke A project to honour those who fought and those who died in war.  If you have the names of anyone you wish to commemorate, whether you, or they, have a connection with the village of Dorchester, and/or you would like to make a poppy, you[...]
Nov 18 @ 5:00 pm – 6:00 pm
Nov 29 @ 7:00 pm – 8:30 pm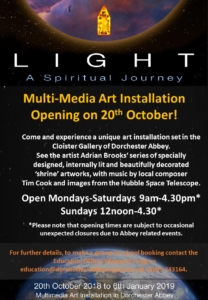 7:00 pm
An evening event open to all with speakers discussing their views on the science and spirituality of light, followed by Q and A from the audience. Suitable for GCSE and A Level students. Speakers/Presenters include; Dr Emmanuel Joffrin, Culham Plasma Scientist, Professor Alister McGrath, Oxford Theologian, Brian Catling, RA Artist, Bishop of Dorchester.
Nov 30 @ 7:30 pm – 9:30 pm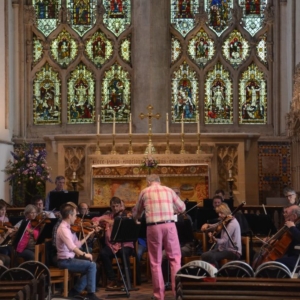 7:30 pm
OSJ 50th Anniversary Concert We are thrilled to present our 50th Anniversary Concert with a very special Friday night concert, blending new and classical music in one of our favourite venues: Dorchester Abbey. Representing the new, Sadie Harrison's contribution to our Displaced Voices project will be performed by Charlotte Tetley and OSJ.  The orchestra will then present[...]
Dec 1 @ 7:30 pm – 10:00 pm
Dec 6 @ 7:00 pm – 9:30 pm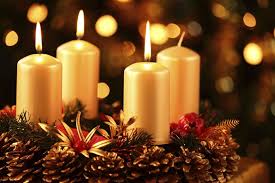 7:00 pm
Join Hft at Dorchester Abbey for The Coming of Christmas 2018. The beautiful Abbey, bathed in the glow of more than 1,000 tealights, creates a truly magical backdrop for this much-loved Christmas celebration. Sit back and enjoy some superb festive music from The Choir of Magdalen College Oxford – conducted by Mark Williams – and[...]
Dec 8 @ 7:30 pm – 9:30 pm
Dec 9 @ 4:00 pm – 6:30 pm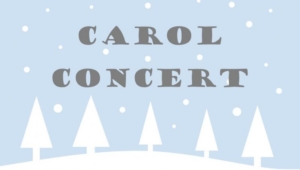 4:00 pm
PACT's annual Carol Concert will be held on Sunday 9th December 2018 at Dorchester Abbey at 5pm with light refreshments from 4pm. This lovely celebration of family life will feature performances from the talented Dorchester Abbey Choir and The Benson Military Wives Choir. It is free to attend but we welcome donations on the night towards PACT's work. Places are limited[...]
Dec 15 @ 7:30 pm – 9:30 pm
Dec 23 @ 6:00 pm – 7:00 pm
Dec 24 @ 4:30 pm – 5:30 pm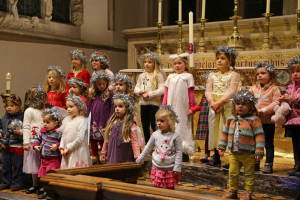 4:30 pm
Our popular Nativity Play produced by Boost! Drama with as many local children as can be fitted in.  Come and enjoy this fabulous celebration of all that is important about Christmas with the Dorchester tradition of a live Baby Jesus to add to the fun. Come dressed as an angel,king, shepherd (or even a sheep!)[...]
Dec 24 @ 11:30 pm – Dec 25 @ 12:15 am
Dec 25 @ 6:00 pm – 7:00 pm
Dec 31 @ 7:00 pm – 8:30 pm