Events at Dorchester Abbey
For generations people have brought their gifts and skills to enhance the life of Dorchester Abbey and this tradition continues as a huge variety of groups and organisations hire and use the Abbey each year as the venue for a wide and vibrant programme of concerts, theatre, visual arts and other events.
If you would like to hire the Abbey for your event then take a look at our information for hirers.

Oct 20 2018 – Jan 6 2019
all-day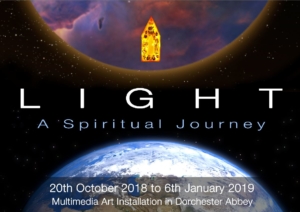 12:00 am
a multimedia installation in Dorchester Abbey Exhibition Opening Times: Monday – Saturday 9am-4.30pm, Sunday 12noon-4.30pm Come and embark on a spiritual journey through images from the Hubble space telescope accompanied specially commissioned music by Dr Tim Cook. A mini pilgrimage down the Cloister Gallery set against the maxi pilgrimage of the movement of the planets[...]
Nov 29 @ 7:00 pm – 8:30 pm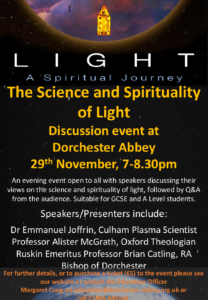 7:00 pm
An evening event open to all with speakers discussing their views on the science and spirituality of light, followed by Q and A from the audience. Suitable for GCSE and A Level students. Speakers/Presenters include; Dr Emmanuel Joffrin, Culham Plasma Scientist; Professor Alister McGrath, Oxford Theologian; Ruskin Emeritus Professor Brian Catling, RA; Bishop of Dorchester.
Dec 19 @ 6:00 pm – 7:00 pm